Saint Benedict


CATHOLIC




COMMUNITY


ECC+USA
Oblate
The word "oblate" comes from Latin meaning "to offer." Romans 12:1-2 "Offer your bodies as a living sacrifice, holy and pleasing to God..." We offer our lives for the service of God. We are men and women of many faith traditions, married, single, old and young, who follow the spirituality of St. Benedict as we go about our daily lives. We are living a monastic life beyond walls and members of a spirituality movement that began more than a millennium ago.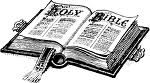 John 15:12
This is My commandment, that you love one another, as I have loved you.
Scripture says, "The harvest is plenty but the laborers are few". Are you tired of sitting in church weekend after weekend and not growing closer to God? Are you sitting at home on Sunday and feeling empty and restless for God? We fulfill a spiritual need by offering the Sacraments without the Laws. Also, we provide Spiritual Direction, Biblical Counseling, Prayer and Comfort. We minister to all Christian people. If you are feeling abandoned or longing for something more. Jesus is calling you. We welcome you into this community. You can offer as much time, talent and treasure as you can give. Growing closer to God is our Spiritual quest. Pray and think about it.
Call or e-mail to start a new journey.

God Bless you,
St. Benedict Catholic Community ecc+usa
osbspirit@gmail.com


314-608-1951
Matthew 9:38
Therefore beseech the Lord of the harvest to send out workers into His harvest.
Come with me into the fields.


Associate
We are men and women who want to live a balanced healthy Christian Catholic life.
We desire to do acts of charity
for others who need help. We assist
St. Benedict Community to fulfill it's mission "to provide for the Spiritual and Temporal needs of all God's people". We are people of prayer and discernment following the Gospel mandate to "love one another as I have loved you"